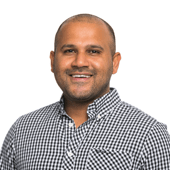 Jay Baththana
Principal Transportation Engineer – Transportation
Born in Sri Lanka, Jay moved to Aoteroa in 2004 to attend university. Jay's highest level of education is a Master of Engineering Studies (transportation) with first class honours from the University of Auckland.
Jay joined Abley as a graduate transportation engineer in the Christchurch office in 2012. During his first few years at Abley, Jay gained exposure to a breadth of transport planning and traffic design projects involving integrated transport assessments, concept design schemes, parking and road safety studies.
After a few years at Abley, Jay relocated to Sydney and then on to London to see the world and to build on his consultancy experience. Jay continued to work on road safety as a road safety auditor and also delivered a number of significant development projects in Australia and the UK.
Jay returned to Abley in 2018 and now focuses on delivering innovative and practical road safety solutions for Waka Kotahi and other road controlling authorities. He is extremely thrilled to be working in the enforcement camera area and also assisting Department of Conservation to improve their road network. He also takes a leadership role in the land development team.
Recently discovering a passion for running, Jay is currently training for his first marathon and one day intend to run a marathon major. He is also looking forward to sleepless nights with a baby on the way!