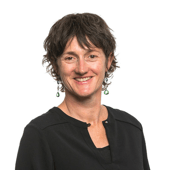 Jeanette Ward
Technical Director, Transportation Engineering – Transportation
Jeanette started her engineering journey with a NZ Certificate in Engineering, then after four years of working she did a Bachelor of Engineering at Canterbury University. She later gained her Masters in Engineering Transportation (MET), studying part time whilst juggling full time work and being a mum.
She began her career with Christchurch City Council at the grass roots level of laboratory technician, moving into road design before attending University. After graduating she worked within an environmental engineering team focused on solid waste management, hydraulic modelling and stormwater design. She then went on an OE to London where she was undertaking railway bridge structural assessments. On returning to NZ she became a transport project manager at the Christchurch City Council for six years. Another OE called her to Wiltshire where she managed the design of a park and ride in Salisbury. Returning to NZ she became a transport engineer for a consultantcy and then joined Abley in 2012.
Jeanette became a Chartered Engineer in 2006 and is now a CPEng practice area assessor for Engineering NZ.
Jeanette is passionate about transport engineering and is given grief by her family as her holiday photographs always end up having a certain transport theme. She loves sharing experiences and learnings with the wider industry through training and conference presentations.